(Note: Have something to say about Ovarian Cancer from a man's perspective? Email us at This email address is being protected from spambots. You need JavaScript enabled to view it.)


We like to believe we are in charge
- By Mike Pritchard

Ovarian Cancer is pretty scary for a guy. We like to believe we are in charge, that we can fix things if they go wrong and usually when something is wrong with our wives, it is our fault so we are totally in control of fixing it.
But Ovarian Cancer is completely out of our control, it is a random act of violence committed against the woman we love. There isn't even a culprit we can go after, no person we can find to extract our revenge on, to even the score. We are completely helpless. For a guy that is very difficult to accept.
Additionally we know the probable outcome. It's like watching your wife get hit by a bus moving at 60mph, only you are watching in slow motion, slow motion that moves in days instead of seconds. You can't stop the bus, you can't get your wife out of harm's way, you can't do anything but watch.
For most guys our wife is an integral part of our life. She isn't just the woman you love, and married, she is your best friend, your comfort, and usually she's the one that makes sure your clothes are clean, your house is clean and you have food to eat. So OC forces you to watch as you not only lose the person you love most in this world, but you watch as OC destroys an enormous part of your life. Leaving you with just the shell of a life as you wonder what just happened, and why it happened.
So for those of us who have not been assaulted by OC yet we just hope it doesn't invade our wife, and our life. Mostly we deal with it the way we deal with any problem we can't control, we ignore it until (or unless) we are forced to deal with it. We do the best we can to not think about it, but it is something we are all aware of, something that reminds us of just how little control we really have.
One day there will be a solution, there will be a cure, a prevention. Until then all we can do is remind our wives regularly to see the doctor for a checkup and support the medical community in finding a cure.
Mike Pritchard
---
Jon Spelman


Jon Spelman stars in The Prostate Dialogues at Theater J. (Stan Barouh)
"The Prostate Dialogues" is an account of Jon Spelman's physical prostrate travails — "I pee all the time; it's a real drag" — and anxious decision-making before and after cancer has been detected. Some of his anecdotes trace the diagnostic courses and insults we've heard about before, the batteries of cystoscopies, colonoscopies and MRIs; the doctors who don't listen and technicians who disappear just when you need them most.
Read more here...
---
Patrick Dempsey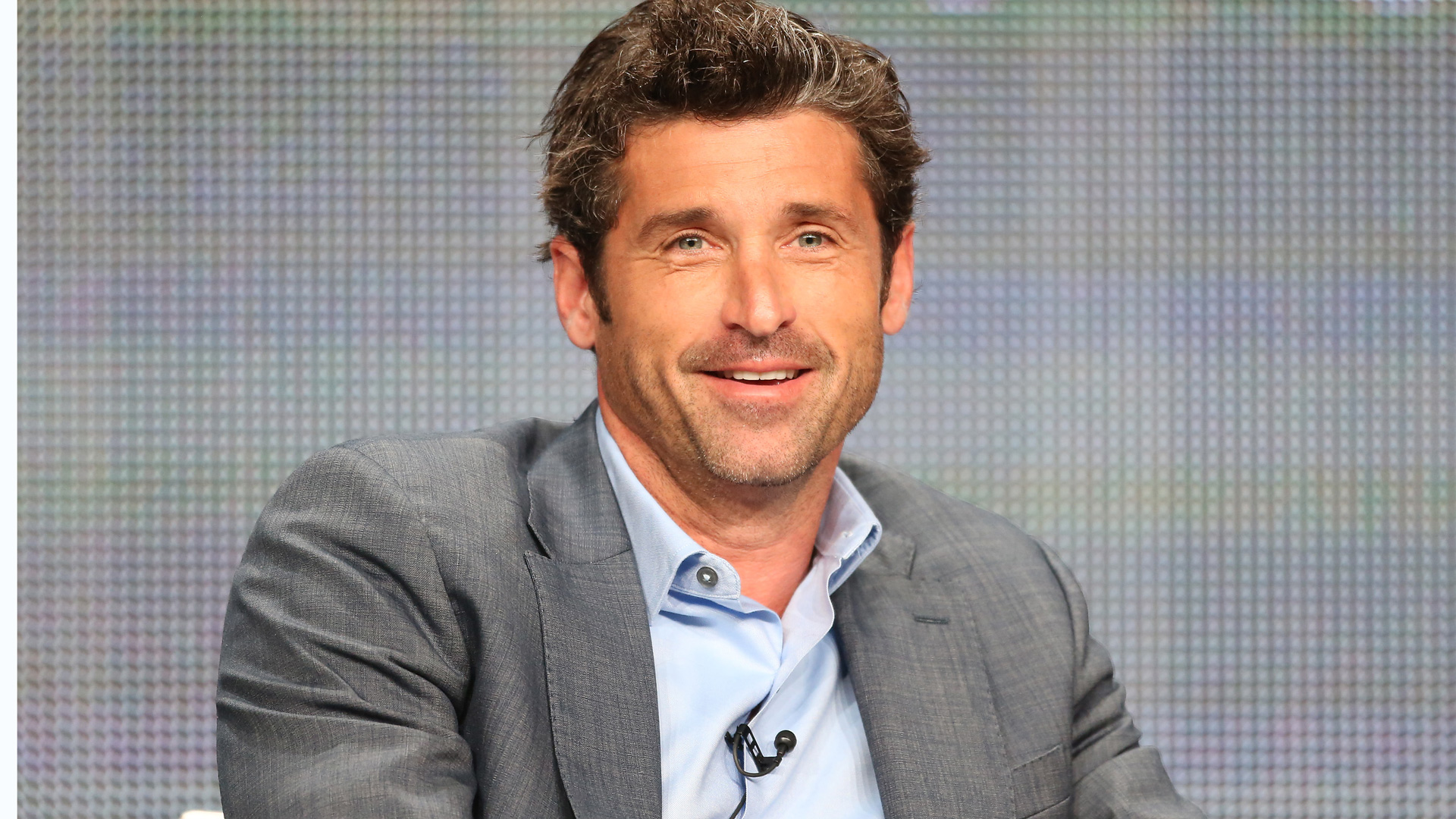 Photo credit: Frederick M. Brown/Getty Images Entertainment/Getty Images
"I remember being overwhelmed when my mother was diagnosed with ovarian cancer almost a decade ago, and I know how challenging it can be trying to make the best medical decisions for oneself or a loved one," said Patrick Dempsey. Dempsey's mother passed away this past March, but her memory lives on through everything the center is doing. He's hoping his new connection with CrowdMed will open up more resources for the center.
In November, Dempsey visited several startups and began looking for potential investment options. When he met with CrowdMed C.E.O. Jared Heyman, they instantly were impressed with each other. Heyman created the company after his sister faced problems getting a medical diagnosis. Heyman and Dempsey connected over their appreciation for technology and desire to improve people's lives.
Read more here...
---
Three men talk about losing their wives to ovarian cancer


Matty, Daniel and Paul lost their wives to ovarian cancer. Now they're fighting for an early detection test in honor of the women no longer by their sides.
Matty Turner, 28, lost his wife, Natalie, 34, in May 2013, six years after her diagnosis
"If an early detection test for ovarian cancer had been available, my soulmate, Natalie, would probably still be here.
Her journey with ovarian cancer started in 2007, the year she turned 28 and five years before we became a couple. She was an extremely fit young mum and police officer at the station where I also worked. She'd suffered severe endometriosis for several years, and as a result was undergoing fertility treatment to have a second child with her partner at the time.
"Natalie told me to leave her, but instead I proposed"
Daniel McCarthy, 42, lost his wife, Sarah, 39, in July 2013, three years after her diagnosis
"My beautiful wife, Sarah, was first diagnosed with ovarian cancer in September 2010. We'd been trying to fall pregnant for two years, and Sarah and her doctors wanted to look into it. They found what they believed was an ovarian cyst, which are relatively simple to remove.
She went in for day surgery and the surgeon expressed his alarm immediately after the operation. The devastating news that Sarah had ovarian cancer came 24 hours later.
We'd been married for two years when Sarah was diagnosed, and together for 12 years before that. We had an amazing, happy, full life together and I'm so proud of the way she dealt with the diagnosis and subsequent years of treatment.
"Sarah battled it with everything she had"
Paul Barton, 35, lost his wife, Jennifer, 28, in February 2013, five years after her diagnosis
"In the space of a few months in 2008, Jen and I got married, bought and moved into our first apartment and she started work as a graduate lawyer. Establishing yourself as a lawyer is an anxious time, which meant stressful days at the office for Jen. She'd often experience an upset stomach despite staying fit and having a healthy diet.
Her GP initially conducted tests and advised changing her diet, even suggesting IBS. Despite being healthy, Jen's stomach was noticeably bloated. After a number of scans, in August 2008, we learned the heartbreaking news.
We were married six months before Jen's diagnosis and together for four years before that. We grew together and supported each other's aspirations; we had many adventures and loved spending time with our families.
"I promised Jen that I'd never give up – and I won't"
---
During the last nine months he has lost everything. Patrick has spent much of his life collecting sports memorabilia – signed sports jerseys, collectible baseball cards such as Mickey Mantle, but sadly they all went the way of the pawn shop to pay for medical treatment. Tragedy never strikes when we are prepared for it. It always seems to seek us out when we are the most vulnerable. For Patrick it came when he was in between jobs and without health care.
As he struggled to pay for the day-to-day expenses of his family, the medical bills were overwhelming. He was unable to meet the monthly expenses for rent and friends from his High School held a fund-raiser to raise money to help keep a roof over his head. A medical facility offered their oncology services for free if he could pay for the medicine. With a smile on his face, Patrick expressed to me that every time that it seemed that there was no way out, God has provided a way.
Read more here...
---
NFL kicker Nick Novak of the San Diego Chargers continues his fundraising effort to help Kicking For The Dream raise money to fight ovarian cancer, according to Kicking For The Dream founder NFL kicker Billy Cundiff.
Read more here...
---
National Male Caregivers' Conference
Men Empowering Men to Care for Women with Breast Cancer
Read more here...

---
Five years before he was diagnosed with male breast cancer, Oliver Bogler was a caregiver to his wife while she underwent breast cancer treatment. This has given Bogler a great appreciation for and insight into breast cancer treatment - both his own and his wife's.
Watch his story to learn what Bogler has learned from this shared breast cancer diagnosis and what he'd do differently.

---
Until recently Myrl Beck barely realized that there was such a thing as ovarian cancer, let alone that it had its own month. Things changed dramatically, however, about 2 1/2 years ago when his wife died of ovarian cancer. Read more here...
---

Chris was happily planning his wedding to Pamela in April 2001 when her diagnosis of ovarian cancer hit them like a ton of bricks.
After postponing their wedding so she could undergo chemotherapy, Pamela & Chris were married in November of 2001 and Chris thought they would simply put this diagnosis behind them. They both soon realized it wasn't so easy.
Both Pamela and Chris began a journey together and separately in their new life as cancer survivors, she as a volunteer with Woman to Woman and Chris on his own journey to try to gain insight and understanding about the effect on men when their partners are diagnosed with ovarian cancer.
Over these past 10 years, Chris has also had to adjust to a new reality post-cancer and to learn to live with the constant vigilance and worry about whether the cancer will come back. Chris helped craft the Men's Guide to Ovarian Cancer and co-hosted along with his wife a Mount Sinai event on "Sexuality for Couples After Gynecologic Cancer."
To learn more about Ovarian Cancer treatment, services and early detection at the Mount Sinai Medical Center, please click here.
To view the "Guide for Male Partners of Women with Gynecologic Cancer", please click here.
---
Info for Men:
The purpose of this guide is to provide you, the male partner of a women diagnosed with gynecologic cancer, with information that will make you a more effective and supportive caregiver.
Information here was provided by men whose partners have completed treatment. These men generously shared their experiences to help other men cope with the practical issues associated with the diagnosis and treatment of gynecologic cancer. They also provide information and tips on how to care for you during this time.
Each couple will have unique concerns and questions, but there are some topics our male advisors identified as being of special importance. Each topic is addressed in the guide and each chapter contains tips from male caregivers and a list of resources.
A diagnosis of gynecologic cancer impacts everyone in a family. It may be frightening and overwhelming, especially immediately following diagnosis. You may experience shock and disbelief during this time. But you will both gradually adjust, and many survivors of gynecologic cancer and their partners report positive changes in both their relationships and their appreciation for life.
The information included in this guide helps you and your partner cope during this difficult and demanding time.
Please contact Mount Sinai Medical Center at (212)241-3793 with questions or comments.
All the best,
Arden Moulton, LMSW, Woman to Woman Program Coordinator
The Mount Sinai Department of Social Work Services
Click here to view the Ovarian Cancer Care guide for men.
---
Man dances in tutu for wife with Ovarian Cancer:

---
In honor of Ovarian Cancer Awareness month, Elements Salon in Jonesboro held a "Teal Toes for Men" event, to help raise awareness for ovarian cancer.
Read more here...
Want to stay informed on the up-to-date info on Ovarian Cancer?
Like our
Facebook page
. Everyday we post the most recent breakthroughs and human interest stories on Ovarian Cancer.